Plugged presents: Parasang, Orchestra of Samples, & Moormur
A journey of sounds from around the world, bringing together three live acts exploring global beats, ethno-grooves, electronics, and nu-jazz.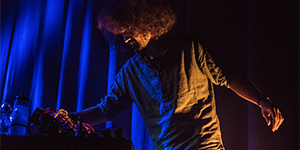 POUYA EHSAEI PRESENTS PARASANG ft LAURA JURD & AFLA SACKEY
Parasang is the brainchild of london-based electronic music wizard Pouya Ehsaei and producer and promoter Harry Follette celebrating the myriad of different sounds in London today. The live improvised performance brings together an eclectic selection of London-based musicians from different cultural roots and musical backgrounds to create a new musical form that is both ancient and new, spontaneous and organised. Expect modular synths and electronics blended with a flavour of jazz and dub, with special guests award-winning trumpet player Laura Jurd and Ghanaian-born percussion master Afla Sackey.
www.pouyaehsaei.com/projects/parasang
---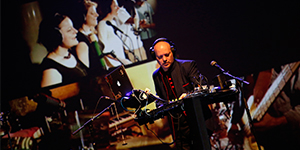 ORCHESTRA OF SAMPLES by ADDICTIVE TV and guests PLUMM,
FRANTIŠEK HOLČÍK and MICHAEL FORDE
Orchestra of Samples is the global music project by ethno-sampling mavericks Addictive TV. Described as "ingenious and compelling" by The Times, the acclaimed live performance is a unique musical AV journey based on sampling improvised recording sessions filmed with hundreds of musicians around the world over the last decade. Immerse yourself in mesmerising musical dialogues with live musicians on stage, sampled musicians on screen and discover instruments you never knew existed!  Special guests for the night are soulful vocalist Plumm, electronic wind instrument / EWI player František Holčík and percussionist extraordinaire Michael 'Fordey' Forde.
www.orchestraofsamples.com

---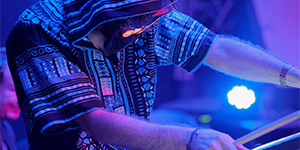 MOORMUR
Moormur is a London based producer and beat maker whose work explores the rhythms and sounds from across the globe. The music is a 'collage' of samples, field recordings, and synths, and takes inspiration from spiritual music, instrumental hip hop, African rumba, IDM, contemporary jazz and ambient. With his live set, he brings to the stage percussion and electronic pads, enchanting the audience with dynamic grooves.
www.facebook.com/moormur.music
---
Parasang and Moormur will feature visuals by 2-Digit Visuals & Mouseonthetelly.
THURSDAY 5 MAY
7pm – 11pm
Walthamstow Trades Hall
61-63 Tower Hamlets Rd, London E17 4RQ
TICKETS:
£5 advance, £7 on the door
£3 Wathamstow Trades Hall members (on the door)
Get your tickets here: www.eventbrite.co.uk
This event is made possible with support from Arts Council England. With thanks to The Stow Brothers, Rhythm Passport and Arts Canteen.